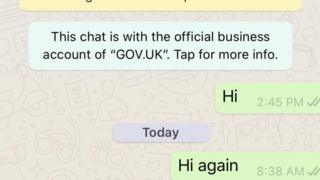 Image caption
Initially, the bot failed to respond to some users and they had to say 'hi' again
A Covid-19 WhatsApp bot set up by the UK government is finally working after problems during launch on Wednesday.
Members of the public who message the bot can access pre-determined chunks of advice on symptoms or how to avoid spreading the disease, for example.
But it failed to work for some users after its launch, providing nothing more than an error message.
However, the BBC has verified that the bot, which also warns about coronavirus myths, is now working as intended.
One of those who encountered initial teething problems, Hashir Milhan, says all seems to be resolved.
"I tried sending the opening 'hi' message with no response," London-based designer Mr Milhan told the BBC.
He said the bot did respond later – but only to send him an error message.
But on Thursday, he was able to access the information without problems.
He noted that the information was generally available online but added: "It's reassuring that this comes from a verified account."
Mr Milhan said he had hoped the bot would be able to engage in and understand conversations,